The Big Island of Hawaii is truly a place to sample all the highlights offered by the Hawaiian Islands!
Known as the Big Island, simply because it's Hawaii's biggest island, the official name of this island is Hawaii. This island was called Hawaii when ruled by King Kamehameha, who in 1810 conquered all the islands, which now make up the chain of islands called Hawaii, and renamed them collectively "Hawaii."
Today, each island (Oahu, Maui, Kauai, the Big Island, along with other smaller islands) are counties which comprise the chain of islands (and state) called Hawaii.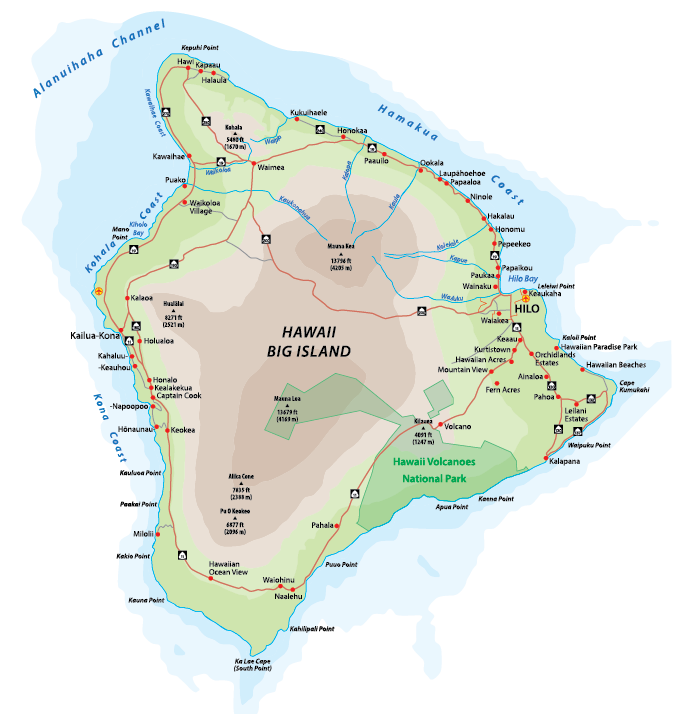 Although the Big Island is mainly known for its active volcanoes and volcano fields, this island also features lovely black and green sand beaches, lunar-like lava coastlines, tropical rainforests, jaw-droppingly beautiful vistas and spectacular waterfalls such as Rainbow Falls and Akaka Falls.
One of the largest privately-owned cattIe ranches in the US operates in the bucolic countryside of Waimea, home to paniolos, which are Hawaiian cowboys. The southernmost point in the United States is located on the isolated, windswept plans near the tiny town of Naalehu. The mountainous region upland of Kona is home to the "Kona Coffee Belt", and there are many working coffee farms where you can learn about and sample the "gold standard of coffee".
The gold coast village of Kona, on the Big Island's west coast, has year-round sunshine – unlike Hilo Town on the east coast, and Kona's beachside resorts and hotels are perfect for romantic honeymoons and vacations. Kona's sunsets, like the rest of this unforgettable island, are remarkable!
All-Inclusive Big Island Premier Packages