There's more to a land than its scenery. 
Don't get us wrong, the Hawaiian Islands represent some of the most spectacular beaches and unforgettable sunsets on the planet. 
But it's the people that truly define a land, and you can only truly experience Hawaii through exploring the rich culture these islands have to offer.
It's a special type of ho'omaha that expands your mind as it relaxes your spirit. 
Ho'omaha is a Hawaiian word meaning rest, relaxation and renewal. It means taking time out of your over-scheduled life to spend a moment taking care of you. 
And our all-inclusive vacations are a perfect time to connect with your personal ho'omaha. 

Your vacation will be custom, so call us to get pricing.
Experience the Adventure
of the Hawaiian Islands
All-Inclusive Premier Packages
Take your time and soak in the sights of a Waikiki getaway, or enjoy the calm breeze while sitting on the beach next to the crystal blue waters of Maui. Our all-inclusive Hawaii vacations offer something for everyone.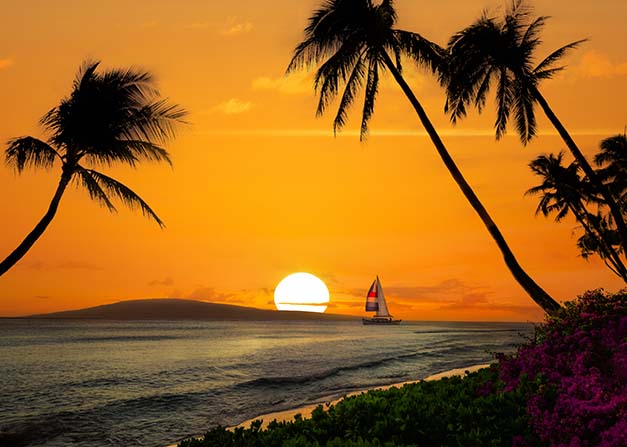 2 ISLANDS: MAUI BASED
We'll manage all the booking of a variety of cultural excursions, including:
Pearl Harbor and the U.S.S. Arizona Memorial
Pay your respects to some of the brave soldiers who gave the ultimate sacrifice for our country. This solemn, sacred place makes the past come alive, as we connect to what makes us special. A cultural excursion is not complete without visiting; it's a piece of history that will live in your heart long after you leave Hawaii.
Pineapple Farms and Coffee Plantations
Explore these working agricultural businesses to get a true taste—literally – of the important island industries. Functional beauty surrounds these ventures, and you may even get a taste of the fresh fruits and products of the farmers' labor. It's only through understanding the industries that you can comprehend the economic impact Hawaii has on the country. 
Ancient Hawaiian Sites and Historic Churches
We give you an insider's tour of these historic places, providing the informational context so you can truly appreciate the significance of what you're experiencing. You may have never heard of these treasures, but they are awaiting your discovery. Our all-inclusive vacations mean that we handle all the booking for you so you can explore at your own pace. 
Royal Palace
Another jewel immersed deeply in Hawaiian history, we will take you on a tour of the royal palace, telling you about the history of Hawaii's leaders and how they transformed the islands. With guided tours that can give you the details of what you're seeing, you'll have a ho'omaha that transforms your perspective. 
Enjoy the Best of the Ho'omaha of Hawaiian Culture—All For One All-Inclusive Price
Learning about another culture transforms us, and Hawaii is full of rich traditions and stories of the residents who have called the islands home for generations. It's only through an insider's tour that you can take advantage of cultural excursions that are off the beaten path and centered in the heart of paradise.  
Contact us for information about how to get your educational dose of culture through our island hopper and all-inclusive packages.