Kauai is known as the "Garden Isle", and rightly so. This verdant island is perfect for those seeking adventure in the great outdoors, as well as a peaceful haven for those looking to relax and recharge surrounded by tranquil natural beauty.. 
Although Kauai is smaller in size, it boasts some of the most breathtaking locations in Hawaii! Kauai's north shore is heavenly, and many movies have been filmed here – including parts of Jurassic Park, the classic movie South Pacific and some scenery shots from the original Fantasy Island.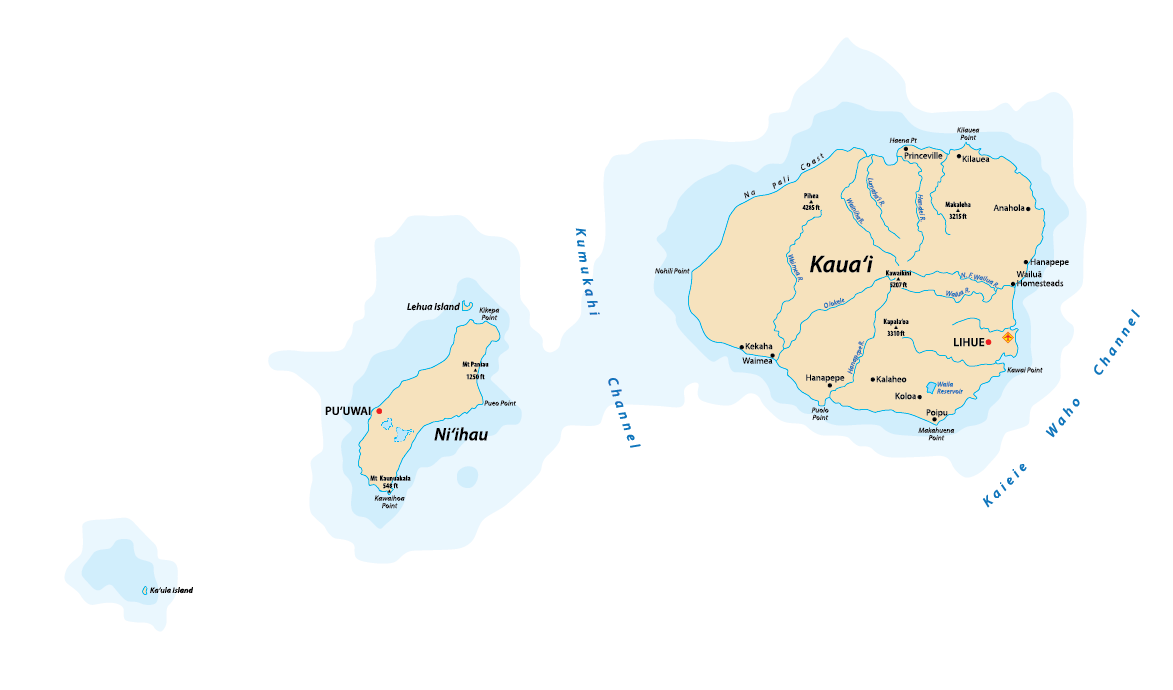 This is the home of the legendary Bali Hai, and is one of the most enchanting areas of the Hawaiian Islands. Here, at the end of your north shore drive, you will also find the famous Na Pali Cliffs, only accessible by boat or helicopter, however, serious hikers can also experience this location.
You can see these majestic cliffs at the end of the north shore road by walking out to Ke'e Beach, turning right and walking a few hundred yards -then turn around and you'll have a striking view of these cliffs. Watching the sunset from this isolated beach is an experience of a lifetime! The quaint Kapaa and Lihue area is on Kauai's lower east shore and offers peaceful tropical charm. This area is where Elvis' wedding was filmed in the movie Blue Hawaii, and is home of two of Kauai's most popular waterfalls.
The beachfront resorts and ocean side hotels in this area are tranquil tropical getaways and are great locations for romantic Kauai honeymoons, weddings, and vacations. This area has much less rainfall than Kauai's north shore – and many choose this area for their hotel/resort stay for that reason. Centrally located – Kapaa offers easy access to west Kauai – which is home of the majestic and colorful Waimea Canyon (nicknamed "The Grand Canyon of the Pacific" by Mark Twain), as well as convenient access to Kauai's north shore, mentioned above.
All-Inclusive Kauai Premier Packages