You understand that paradise is better when it's shared.
And what better place than Hawaii to rekindle and fan the flame of your relationship? From the most romantic beaches in the world to sunsets that are made for holding the one dear to you, we can show you a getaway you'll fall in love with—whether you're celebrating a wedding anniversary, a honeymoon, or just a romantic getaway.
Because ho'omaha is better when it's experienced by a couple. 
What is ho'omaha? It's a Hawaiian word that means much more than vacation. It means the type of relaxation and rest that promotes renewal. 
And don't you deserve the best ho'omaha tailored just for you? Our all-inclusive vacations are the perfect answer.

Your vacation will be custom, so call us to get pricing.
Experience the Adventure
of the Hawaiian Islands
All-Inclusive Premier Packages
Take your time and soak in the sights of a Waikiki getaway, or enjoy the calm breeze while sitting on the beach next to the crystal blue waters of Maui. Our all-inclusive Hawaii vacations offer something for everyone.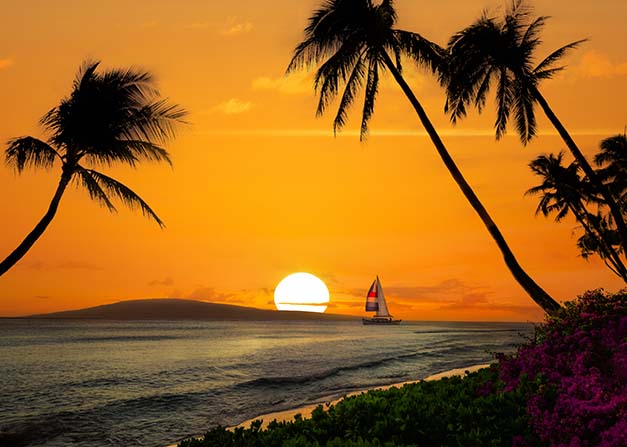 2 ISLANDS: MAUI BASED
So, take the hand of your sweetheart and enjoy some of the items we offer in our all-inclusive packages:
Relaxing Catamaran Sail
Sail around the spectacular Waikiki Beach for the scenery you'll never forget. When you're on the water, you feel a special connection to the beauty of this land. By taking this sailing venture, you'll have a shared experience that is sure to solidify some of your most precious memories. 
A Beach Umbrella, Two Chairs, and an Ocean View
Hawaii is famous for its stunning beaches, and that's why we will offer the simple, yet popular choice of merely relaxing by the ocean with the one you love. It doesn't get any better than this. 
Time to Explore
The purpose of a romantic vacation is to have some quality alone time. You can't do that if you're being herded with a pack of tourists to every location. That's why we build some time in the schedule for you to explore on your own—or just have an afternoon on the beach. 
Beachfront Sunset Dinner
As the day draws to a close and the stars come out, you can enjoy a leisurely, romantic dinner prepared by top chefs.  Let the experience remind you of the first time you fell in love. Let the ho'omaha wash over you and renew not just your body, but the spirit of your relationship.
Fall in Love with Your Personal Ho'omaha—for One All-Inclusive Price
There's so much to enjoy with your spouse or significant other by your side.  There's a reason Hawaii is one of the most romantic locations on earth. By exploring and experiencing the leisurely beauty that this land has to offer, you'll see each other in a different light, renewed, relaxed, and ready to embrace the love of this land and each other. 
Learn more about our all-inclusive Hawaiian vacation packages to experience the Hawaii you desire.