The Insider's Guide to the Best Things to Do on Oahu
The island of Oahu has been memorialized in TV shows like Hawaii 5-0, Magnum P.I., Lost and in movies such as 50 First  Dates, Forgetting Sarah Marshall and The Descendants. The  Oahu receives approximately 400,000 visitors each month!
It is one of the most famous islands in the world, so it is easy to think you already know all the best things to do on Oahu,  however you may be missing out!
Keep reading for the ultimate  insider's guide to the best things to do on the beautiful island of  Oahu. 
9 Best Things to do on Oahu
Best Thing to Do on Oahu #1: Waikiki Catamaran Sail 
If you spend any time on Waikiki Beach, you will notice the  brightly-colored sails of catamarans launching from the shore.  Most of the catamaran tours are very similar, with small  deviations in boat size, tour length and crew interaction.  Subject to ocean conditions, they launch daily, every couple of  hours.
For the most part, these sails last about one hour, and sail out past Diamond Head. As you begin your sail, the crew  blows a conch shell to alert swimmers to get out of the way,  and then you motor past the all the surfers waiting for "the big  one."
Once you get farther out past the point of Diamond Head,  the wind picks up and the sailing begins! There are usually beer  and wine for purchase onboard, along with homemade mai tais.
2. 
Diamond Head Hike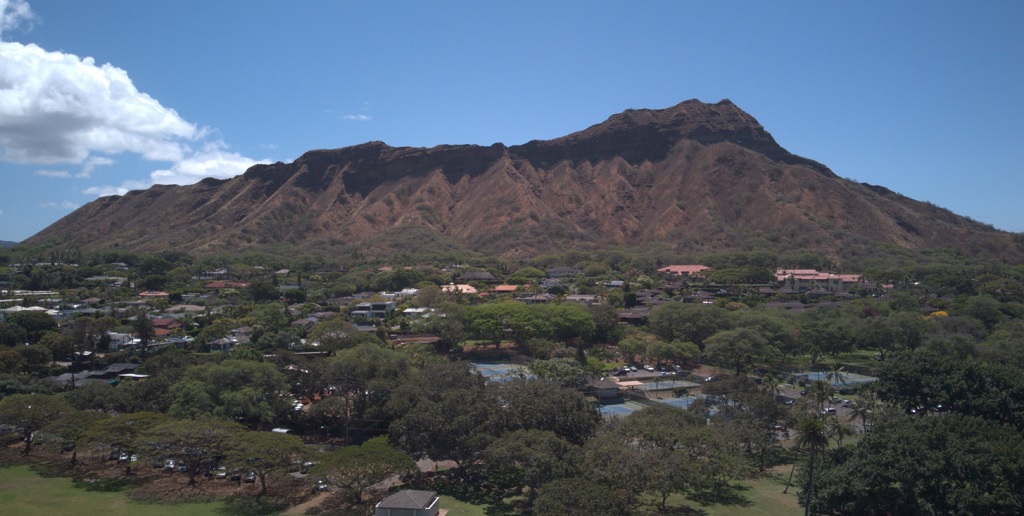 This iconic volcano, named Le'ahi in Hawaiian, is one of the  most popular hikes on Oahu, therefore making it one of the best things to do on Oahu. It isn't to be missed. After all,  how often do you get a chance to hike an extinct volcano while  taking in magnificent views of:
 Waikiki skyline

East Oahu 

Diamond Head Lighthouse

Koolau mountains
This is a  fairly short hike, but does have uneven terrain, a steady incline and 175 stairs.  At the summit, you will see old bunkers from  World War II, and some of the prettiest views on Oahu. The  parking lot is extremely limited, so either get there early or better yet, book a self-guided tour to handle the transportation for you. 
3. Waiola Shave Ice 
We all know Haleiwa is famous for its many shave ice shops,  but if you want to go where the locals go, head to this quaint  shop tucked away in the residential neighborhood of Mo'ili'ili. 
Homemade syrups, in classic flavors, make this shop stand out.  Get adventurous and add ice cream, condensed milk, azuki  beans – or all three to your shave ice! Open daily from 11:00am  -5:30pm (hours subject to change). 2135 Waiola Street,  Honolulu. 
4. Byodo-In Temple
Established in 1968, this smaller replica of the 950 year-old  Byodo-In temple in Uji, Japan was built to honor Japanese  immigrants to Hawaii. It is a non-practicing Buddhist temple,  and people of all faiths are invited to visit, pray or reflect here. 
Located at the base of the stunningly beautiful Koolau mountains on the eastern side of Oahu, you must drive through  the Valley of the Temples cemetery to reach it.  It has been  named of one the most beautiful Buddhist temples in the  world.
This serene temple also features lush grounds and  gardens, ponds teeming with koi, turtles and black swans and  you may see one of the wild peacocks that live here too! There  are restrooms and a small gift shop onsite.  
5. Maunakea Marketplace 
Located in the heart of Honolulu's Chinatown, this tucked away  market and food court will transport you to another land!  Delight your senses as you experience an exotic food market,  where you will see everything from squid to duck to bullfrogs  being sold!
This is a great place to pick up Asian delicacies and  snacks to take home, as well as more traditional souvenirs. The  epicenter of the Maunakea Marketplace is the food hall, where  you'll find almost every Asian cuisine you can imagine – Filipino, Chinese, Laotian, Thai, Vietnamese, Japanese and more!  
6. Kaimuki
This established neighborhood in Honolulu has experienced a  revival in recent years. The "Keep it Kaimuki" movement seeks  to highlight the many locally-owned small businesses that make  up this thriving district. New and old businesses coexist here,  everything from Talk coffee shop (an original 1990's era  hangout for coffee and homemade pastries), Koko Head Café (divine breakfast and brunch options), Kaimuki Crack Seed  Shop, Bead It! And so much more.
7. Kaneohe Sand Bar Snorkel & Sail 
Sailing out to this pristine strip of white sand located off the  coast of Kaneohe, in eastern Oahu, is one of the best things to  do on Oahu! Start the morning off at charming He'eia Kea  Harbor and sail out to one of the world's largest sandbars for a  day filled with snorkeling, swimming, beach volleyball, relaxing  or even "walking on water".
The scenery is some of the most  stunning on Oahu – turquoise ocean water, towering green cliffs  and peaks of the Koolau and Mokoi'i Island (also known as  Chinaman's Hat) in the distance. Enjoy a freshly grilled lunch  onboard before heading back to land.  
Owner's Best Thing To Do On Oahu #8: Tantalus Lookout or Punchbowl Scenic Lookout
Both of these lookouts offer a panoramic and breathtaking view  of Honolulu, Waikiki Beach, Diamond Head and the valleys that  surround them.
Tantalus is our favorite of the two, and offers a  better view that includes Hanauma Bay in east Oahu, as well as  all the way west as Pearl City. As you drive up winding Round  Top Drive, you will see magnificent estates as well as glimpses  of the jaw-dropping view that awaits you at the top.
You can  keep driving past Puu Ualakaa State Park, and if you do, be sure  to roll your windows down so you can smell the eucalyptus  forests as you drive! Punchbowl Lookout is located within the  National Memorial Cemetery of the Pacific, so here you have  the benefit of visiting this solemn memorial to the men and  women who gave their lives in service to our country. 
9. Sherwood Forest Beach
Located off the beaten path in Waimanalo (but not Waimanalo Beach), this stretch of white sandy beach is postcard-perfect!  Framed from behind by a forest of ironwood toa, in front by the  crystal-blue Pacific and on one side by the majestic, green  Koolau mountains, this enchanting beach will be a favorite. 
From Honolulu, turn right by Waimanalo McDonald's. Street  parking only.  
For Your Dream Vacation to Oahu Take Advantage of Our All-Inclusive Packages
We could keep going and going, but this is a good place to start for things to do on Oahu. 
Many of these activities are included in our Oahu All Inclusive  Vacation Packages , check them out to see which one is the right  fit for you. Happy exploring!