5 Fun Facts About Waianapanapa State Park 
Along Hana Highway, Maui's legendary drive that twists by lush rainforests, cascading waterfalls and jaw-dropping panoramas, is Waianapanapa State Park. 
Located not far from mile marker 32, and approximately a 10-minute drive from Hana Town, this state park is a popular stop for Maui locals and visitors. 
Reservations are required for Waianapanapa State Park

Admission for non-residents is $5 per person (ages 4 & up). 

There is also a parking fee of $10  per non-commercial vehicle. 

Waianapanapa State Park reservations may be made up to 30 days  in advance, and no later than the day before your visit.
Our Maui Premier All Inclusive Package or the Maui-Based Island Hopper Package allow plenty of time to visit this Maui highlight, while making the rest of your trip hassle-free!
Encompassing 122 acres of spectacular Maui scenery, this gem off the Road to Hana is a must-see, so keep reading to discover 5 fun facts and sights about Maui's Waianapanapa State Park! 
1. PAILOA BLACK SAND BEACH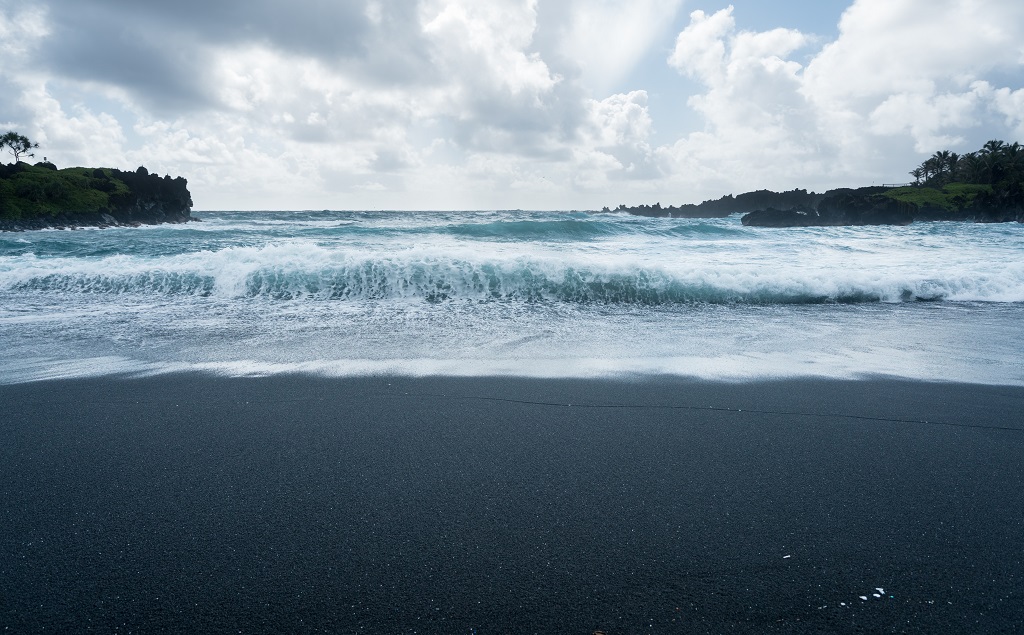 Perhaps the most famous sight of Waianapanapa State Park is Pailoa, Maui's striking black sand  beach. Smaller than the black sand beaches of Hawaii Island, what Pailoa lacks in size, she  makes up for in deep onyx sand color. Lush green flora creates a stunning contrast to the deep  black lava rock sand, creating the perfect "Kodak moment"! 
2. WAIANAPANAPA MEANING 
In Hawaiian, Waianapanapa translates to "glistening waters" or "waters of rainbow hues", and  the brilliant turquoise color of the ocean against the ebony lava rock sand of Waianapanapa  certainly earns the flattering description.  
3. LEGEND OF PRINCESS POPOALEAE 
Ancient Hawaiian folklore tells the sad story of a young chieftess named Popoaleae, who was  married to Chief Kaakae. He was jealous and cruel, so Popoaleae, along with one of her serving  maids, ran away and hid in the entrance to a sea cave.
The chief spotted their reflection in the  water, and killed Popoaleae. Each spring, small red shrimp gather in the waters of the cave, turning the water deep red. Legend says this is a reminder of the Hawaiian princess' blood that  was spilled by her husband. 
4. NATURAL SEA ARCH 
This stunning sea arch is located in Pailoa Bay, not far from the blow hole. 
5. WAIANAPANAPA SEA CAVES  
The caves from the legend of Popoaleae, these former lava tubes are a must-see. Glistening  aquamarine waters and overhanging cave walls create a magical sight you won't soon forget!
Important Information About Waianapanapa State Park: 
Please exercise extreme caution if swimming at any beaches in Waianapanapa State Park. The  waters on this side of Maui can be rough and contain dangerous currents, and there are not  lifeguards on duty in the park.  
Likewise, exercise caution when attempting any hikes. Consult a park ranger for up to date  hiking conditions before hiking.
Visit https://dlnr.hawaii.gov/dsp/parks/maui/waianapanapa-state-park/ to make park  reservations.