What Are the Best Beaches on Oahu? Let's Talk About It
Looking for the best beaches on Oahu? No worries – we have you covered! Oahu beaches run the gamut – from cosmopolitan to country to world-renowned to hidden away; the secret is out…the best beaches are definitely on Oahu!
Best Beaches on Oahu: South Shore
Sans Souci
Diamond Head Beach
Waialae Beach Park
The sun-drenched South Shore boasts some of Oahu's best beaches, and they are the perfect place to soak up the Hawaiian sun.
Diamond Head Beach is famous for windsurfing from the winds blowing off Diamond Head, and is also a good spot for sunbathing.
Waialae Beach Park, a popular wedding location, draws beachgoers with its gorgeous views of Hanauma Bay.
What hasn't been said about Waikiki Beach? Considered one of the most iconic beaches in the world, it is a must-see! If you want the vibe but not the crowds, wander down to adjacent Sans Souci Beach, a locals' favorite.
Best Beaches on Oahu: Windward (east) Side
Makapu'u
Waimanalo
Sherwood Beach
Kailua & Lanikai
Not to make this all about me, but these beaches are my favorites, hands down. Oahu's windward side is a lush, emerald Garden of Eden. Even the air smells green! You really can't go wrong with any of the east side spots, but the following are standouts.
 Makapu'u is a triple threat. The Makapu'u Lighthouse trail offers an easy, uphill hike with stunning views of the beach below and Rabbit Island. The Makapu'u Lookout offers similar views; without the work. And Makapu'u Beach is a crescent-shaped beach that's too pretty to describe. We say: just go.
Waimanalo and Sherwood Beach are close in proximity, but Waimanalo has a public lot and restrooms. Sherwood Beach is framed by a forest of ironwood toa trees, but parking is very limited. Both are dreamy Oahu beaches offering white sands and lime-green waters.
Kailua Beach and Lanikai are consistently rated as Oahu's best beaches, but if public parking and restrooms are appealing to you – choose Kailua over Lanikai.
Kahana Bay isn't known for its swimming, but there's something magical about this place. Stroll through the ironwood forest, try out the beach swing and let your imagination wander. Anything can happen here.
Best Beaches on Oahu: North Shore
Laie State Wayside Park
Sunset Beach
Waimea Bay
Sharks Cove
Oahu's North Shore beaches are legendary. The best-of-the-best of the surfing world come here to brave winter swells that can reach 40ft. In the summer months the water is wonderful for swimming, snorkeling or paddle boarding (always check conditions before entering the ocean).
Sunset Beach and Waimea Bay are big time surfing locations, but they also offer world-class sunsets, butterscotch sands and good swimming (in the summer months). Waimea Bay is also home to the "Jump Rock", famous for cliff jumping.
Laie State Wayside Park doesn't really feel like a beach, but only a few minutes off Kamehameha Highway, the oceanic rock formations will take your breath away. No swimming here, but great photos!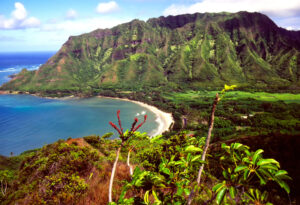 Looking for one of the best beaches on Oahu for snorkeling? Try Sharks Cove. Ideal for all ages, there's also restrooms, parking and nearby food trucks. Worth a visit!
Best Beaches on Oahu: Leeward (west) Side
Koolina Lagoons
Pokai Bay Beach
Ma'ili Beach
The beaches on this side of Oahu aren't usually visited unless you're staying on the west side, but they are hidden gems for sure.
The Koolina district features several lagoons, and they're all pretty.
Ma'ili Beach sports white sands, azure water, grassy recreational areas, restrooms, parking and is suited for a range of outdoor activities.
Pokai Bay Beach's naturally protected water is great for little ones. Soak in views of the Waianae Mountains as you enjoy this locals' favorite.
Not all these beaches are ideal for swimming, but we considered several factors when deciding the best beaches on Oahu. Some are just made the list because they offer the perfect "Kodak moment". Always exercise caution, never swim alone and check conditions prior to entering the ocean.